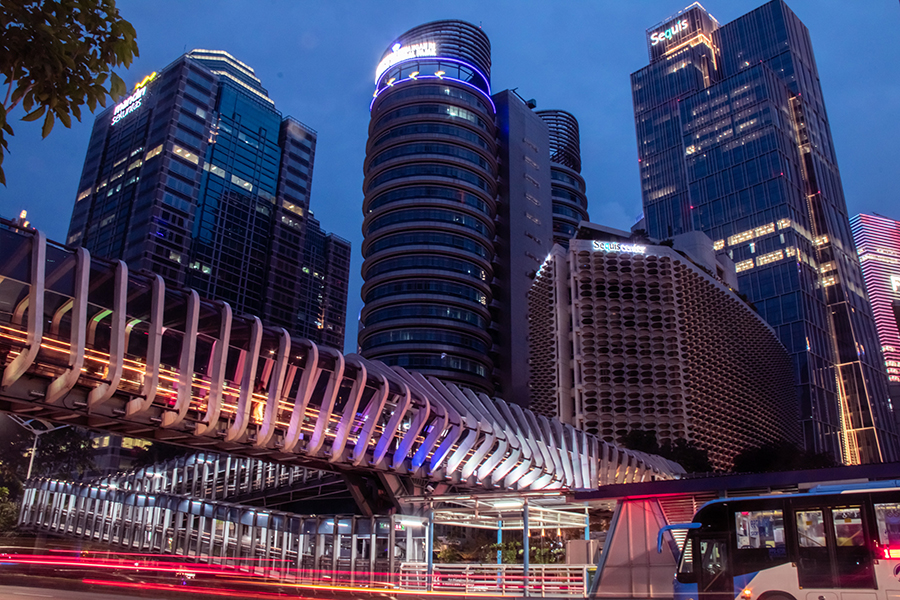 I read an interesting piece by Amy Blashka in Forbes magazine about a year ago. It was on career planning and entitled "How To Have 20/20 Foresight By 2020."
Thought provoking title, I thought, especially as most of us just want to see the back of this 2020 madness. And because 20/20 is usually associated with hindsight and our tendency to understand events only after they have happened, not before.
In the piece Blashka argues "foresight is planning for what we think will happen before it happens. Foresight can also be preparing for what we want to happen. It's about setting goals and then taking small actions, regularly and deliberately over time, to achieve your larger objectives."
Making It Easier To Do Business in Indonesia
We believe that's something Jokowi's administration seems to be doing with Indonesia's efforts to attract more Foreign Direct Investment (FDI) and making it easier to do business here.
McKinsey Global Institute (MGI) predicted in a paper published in 2012 "Indonesia is on course to become the seventh largest economy in the world by 2030." It is already Southeast Asia's biggest digital tiger and the Cabinet Secretariat of the Republic of Indonesia are aiming for Indonesia to be the world's fourth largest economy by 2045.
The list of 'small actions' that have been taken in recent years to do this is actually quite a long one. It includes Omnibus Laws, deregulation and relaxation across a number of business sectors, infrastructure development, land ownership revisions, tax cuts, Special Economic Zones (SEZs), revision of the Negative Investment List (NIL) to the Positive Investment List (PIL), credit rating improvements and a slew of financial reforms and stimulus packages are all part of a bigger plan to make Indonesia more attractive for FDI.
Seven Stones Indonesia
That's why we're delivering smart, collaborative, relevant and progressive investment and business solutions that have a positive impact on clients, partners, employees and local communities. At SEVEN STONES INDONESIA we're focusing on what matters most to our networks today as well as future-proofing them so doing business in Indonesia is more relevant, efficient and effective.
We're encouraged by President Jokowi declaring Indonesia open for business.
According to The Nikkei Asian Review, Jokowi said "we want companies from China, of course, but also Japan, South Korea, Taiwan, the U.S., and anywhere else in the world to move here. If other countries are asking 1-million for land, then we can offer it for 500,000."
The President said this at a recent unveiling of a new industrial park in Batang, on the north coast of Central Java, where seven foreign companies have committed to relocate and start construction of their facilities to the tune of USD 850-million.
The Jakarta Globe reported the "largest economy in Southeast Asia has also received a commitment from at least 17-companies to relocate to the industrial area, with total investments estimated at USD 37-billion." The Jakarta Post believes this will create employment for more than 110,000-people.
Domestic Market Potential
Indonesia plans to set up 19-industrial parks across the country by 2024. IDN Financials are reporting at least 143-companies will relocate their investment to Indonesia.
Director of Promotion Development at Indonesia's Investment Coordinating Board (BKPM), Alma Karma, explained that out of the 143-companies, 57-were from the US, 39-from Taiwan, 25-from South Korea, and the rest are Japanese and Hong Kong based entities.
The South China Morning Post are reporting that "a spokesperson for the US International Development Finance Corporation (DFC), said Indonesia's strong and growing domestic economy make it an attractive market for investment."
The report goes on to quote Alexander Feldman, chairman of the US-ASEAN Business Council, as believing "the advantages that Indonesia can offer as a manufacturing hub are particularly around its large domestic consumer market. Indonesia is expected to be one of the world's fastest-growing emerging markets over the next decade, offering revenue growth opportunities for a wide range of multinationals across many sectors of manufacturing and services. Indonesia does have the additional advantages of relatively low-cost manufacturing wages and a large labour force, for firms looking to manufacture for the Indonesian domestic consumer market," he said.
It's Time To Wake Up And Smell The Coffee!
This may come as a surprise to some who continue to argue Indonesia isn't as competitive as Vietnam, Thailand, Malaysia, Taiwan and India. There's less red tape, they say. Less corruption. And it's cheaper! While this may have been the case even 5-years ago it doesn't seem to hold as much truth today.
The consensus on why companies are relocating in the first place seems to narrow down to; increasing labour costs; increasing tariffs and taxes resulting from the US-China Trade War (which impact many other countries apart from the US and China); and concerns over the Coronavirus and the impact this is having on supply chains.
Nordic Council Indonesia
For the savvy investor now could be an ideal time to consider relocating and investing in Indonesia, despite the current global economic insanity, especially if there is attention given to long term objectives and the greater good.
A case in point is the recent formation of the Nordic Council Indonesia (NCI), a collaborative group of professionals based in Bali working with both foreign and domestic partners to encourage innovative business and social investment that have a positive impact on Indonesia.
NCI is the bridge connecting Nordic investments, innovation and expertise with Indonesia's potential and resources by providing access to both business and government networks including those that inspire eco-conscious, community and educational development. Membership of the NCI is open to all nationalities with the same mindset.
Terje Nilsen, Chairperson of the Board for NCI told SEVEN STONES INDONESIA "one of our main motivations to start up NCI is to be able to support and, of course also benefit from, the potentials that now emerge in Indonesia through the various steps taken and implemented by Jokowi. The Covid situation has also created further urgency into it all, and we are all excited to support and grow activities between Indonesia and our fellow Nordic Countries."
Having 20/20 Foresight
It seems mindset is the key and the future is indeed ours to create. If we stay set in our old ways and take the naysayers and doomsday prophets at their word we risk standing still and stagnating, confused and frustrated as to why new doors remain closed and why possibilities are confined to dreams.
If we do this, hindsight will show we missed the boat in 2020.
But if we want to be the change we want to see, if we want to prosper (as businesses and societies) we must cultivate and embrace ideas and initiatives that have positive impacts for us all. It is with this mindset that companies, and even countries, can open new doors and truly make a difference – one step at a time. Now and for future generations.
***
Find out how we can help you and your business. Send an email to: hello@sevenstonesindonesia.com
Sources: Forbes, Cabinet Secretariat of the Republic of Indonesia, McKinsey Global Institute, South China Morning Post, Peterson Institute for International Economics, The Jakarta post, Jakarta Globe, IDN Financials, Nikkei Asian Review, Indonesia Expat, The Diplomat, Kompas
This blog has been adapted from an article submitted to Indonesia Expat for publication in September 2020.