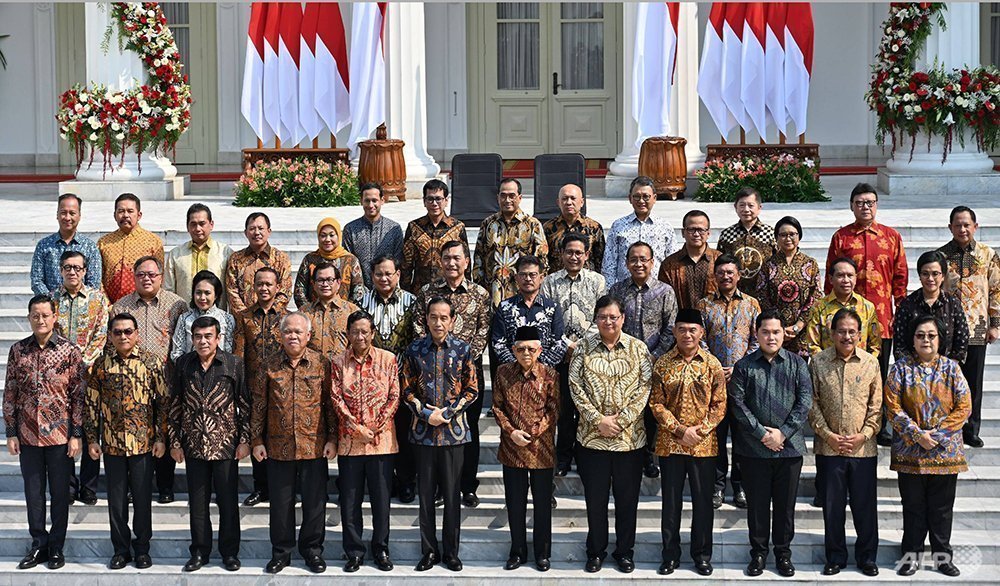 President Joko Widodo (Jokowi) was inaugurated as Indonesia's seventh president on Sunday, October 20 and has today (Wednesday, October 23) formally announced his new Cabinet – the Indonesia Onward Cabinet 2019 – 2024.
We like to keep ourselves up-to-date with what's happening in Indonesian politics, and then share these insights with you, as we're aware of the profound impact rules, regulations and perceptions can have on market sentiment and investor confidence.
Keeping eyes on the prize
Indonesia needs stability and expertise to be able to achieve its very ambitious goals of becoming an Asian powerhouse and the world's 5th largest economy by 2045. And appointing business professionals and politicians from opposition parties goes a long in achieving this.
Some appointments however, have raised eyebrows, especially from those foreign observers who claim to be knowledgeable about Indonesian politics but are unfortunately somewhat ignorant of its culture.
Political stability and appeasement
Engaging Prabowo Subianto as Minister of Defense, for example, Jokowi is better able to "balance political stability with competency" say The Straits Times, by "showing compromise and the reality of political patronage … While many Indonesians were disappointed, some believed it was a gesture of unity."
Here's our take on some key Cabinet appointments.
Coordinating Political Legal and Security Affairs Minister – Mahfud MD
(former Constitutional Court Chief Justice)
This was a big surprise for us as this position was generally thought to have been earmarked for Moldoko. Maybe there was a horse deal done when Mahfud was just 24-hours away from becoming Vice President.
It reminds me a bit about SBY when he was set to lead Reformasi ABRI but Gus Dur had other plans.
He then got his position in exchange and became the President later. This is something that may very well happen to Mahfud, who's seen as a reformative Muslim, independent politically (at least until now) and popular among Indonesian people.
Coordinating Economic Minister – Airlangga Hartarto
(former Industry Minister/Golkar Party Chairman)
This looks like a step up the ladder for the leader of Golkar. He's a well perceived politician that's managed to create peace in a largely broken Golkar party and let's not forget he embraced Jokowi's first term.
Coordinating Maritime Affairs and Investment Minister – Luhut Pandjaitan
(Coordinating Maritime Affairs Minister in Jokowi's first-term)
The creation of a new ministry combining maritime and investment sends a clear signal that the government will be focused on both sectors, as well as the synergy between them. According to Okushi President Jokowi hopes Luhut can resolve problems in these key sectors especially as sea-based tourism investment and development fits into the Government's recent announcement on the Tourism and Lifestyle sectors.
This could be the perfect time to establish a sea-based tourism venture in Indonesia!
Defense Minister – Prabowo Subianto
(Gerindra Party Chairman)
This was a big surprise for many, but for others an example of strategy and a joint effort towards overcoming the darker elements in Indonesia's politics.
Prabowo still has strong support in the military and his appointment is likely to consolidate Jokowi's power in the national assembly with Gerindra holding a substantial number of seats.
At the end of the day Prabowo is a nationalist coming to terms with his position and let's not forget he was supported by almost 50-percent of the population in the recent election.
Home Minister – Tito Karnavian
(former National Police chief)
This is an interesting choice and further strengthens the fight against Indonesia's ongoing problems with terror and extremism.
Foreign Minister – Retno LP Marsudi
(foreign minister in Jokowi's first-term Cabinet)
Retno did a good job in Jokowi's first term (something her reappointment would justify) and now she can continue to develop Indonesia's positive relationships with the world.
Religious Affairs Minister – Fachrul Razi
(former Indonesian Military Deputy Commander)
This is another big surprise as Fachrul is a former general and known to be a member of Jowowi's Think Tank.
One can only assume that his main job will be to root up dark elements with in the ministry of religion and beyond.
We think it's a good and a bold choice.
Finance Minister – Sri Mulyani Indrawati
(finance minister in Jokowi's first-term Cabinet)
We think this is a very good choice and an important appointment. It's critical for Sri to continue her long term planning and execution of Indonesia's fiscal/financial situation.
Culture and Education Minister – Nadiem Makarim
(GoJek Founder)
Another bold move! Hopefully this is a signal that Indonesia is serious about revamping the country's educational system with young and energized thoughts.
Maritime Affairs and Fisheries Minister – Edhy Prabowo
(Gerindra Party politician)
Lot of people will miss Susi Pudjiastuti, the former Minister but we think Edhy can keep up her good work and continue her legacy.
Agrarian and Spatial Planning Minister – Sofyan Djalil
(NasDem Party politician)
This is one appointment that the property and real estate industry should be interested to follow. Watch this space.
National Development Planning Minister/National Development

Planning Agency (Bappenas) – Suharso Monoarfa
(PPP Acting Chairman)
This is a bit of a surprise as many thought this post would go to former BKPM chairman Thomas Lembong.
Administrative and Bureaucratic Reform Minister – Tjahjo Kumolo
(former Home Minister)
We feel this is a step up to support the reformation of Indonesia's overly complicated bureaucracy.
State-Owned Enterprises Minister – Erick Thohir
(Jokowi's former Campaign Team Chairman)
A well skilled businessman is now leading Indonesia's many and large state owned enterprises and hopefully he'll get the support to move State Owned Enterprises in a positive direction. This will be a very interesting position to watch.
Tourism and Creative Economy Minister – Wishnutama Kusubandio
(NET TV cofounder)
Another fairly young and energetic Minister who we hope will take Indonesia's tourism industry to the next level, by following up on all of the good work from former Minsiter Arif Yahya.
Presidential Chief of Staff – Moeldoko
(Presidential Chief of Staff in Jokowi's first-term Cabinet)
Another key player in Jokowi's Think Tank and strategic moves. Together with Luhut, we think Moeldoko will have a lot of influence on the path forward.
Investment Coordinating Board (BKPM) Chief – Bahlil Lahadalia
(Chairman of the Indonesian Young Entrepreneurs Association – HIPMI)
A self made millionaire business man and former chairman of HIPMI seems a pretty logical person to be driving Indonesia's domestic and international investments.
We think it will be interesting to see what new energy he can pump back into BKPM.
Sources: The Jakarta Post, The Straits Times